Een stal met internetverbinding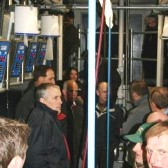 maandag 15 februari 2010

13:07
De fractie van de ChristenUnie bezocht afgelopen week boerderij 'Veldhoef' van Aalt van Kempen. De boerderij met een mooi oud woonhuis en een splinternieuwe stal ligt aan de rand van de gemeente Putten. Een prachtige skybox geeft een leuk uitzicht op de moderne stal waar de koeien rustig liggen of even rondlopen.
De fractie wordt welkom geheten door Aalt van Kempenin de skybox. Tijdens het koffie drinken komen er veel meer agrariërs binnenlopen. Kandidaat raadslid en agrariër Henk Dekker opent de vergadering en al snel ontstaat er een levendige discussie over de regelgeving waarmee de boeren vaak en vooral te veel te maken hebben. Tegenstrijdigheden tussen de verschillenden overheden zijn niet alleen irritant, maar kosten de boeren ook veel tijd en dus geld. Hoewel de gemeente Putten het in de ogen van de agrariërs niet slecht doet in vergelijking met de omliggende gemeenten, worden er wel voorbeelden genoemd van te veel regelgeving.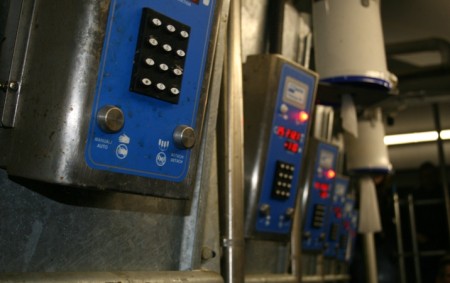 Henk Dekker legt uit dat veel van die regels opgelegd worden door de provincie of ook wel door de regering in Den Haag. Grote boosdoener is ook Europa. En daar zijn alle boeren het over eens: Nederland legt de regels van Europa te streng uit. Dekker wordt geholpen door Provinciale Statenlid Lubbert van den Heuvel, die ook kandidaat raadslid is. Als zoon van een Puttense agrariër kent hij het boerenleven van binnen uit. Bovendien heeft hij in de provincie het beleidsterrein van Landelijk Gebied en is hij dus goed op de hoogte van de problemen in de sector. Natura 2000 is van de items waarvoor veel regeling geldt. Veel boeren pleiten voor meer eigen verantwoordelijkheid, niet alleen voor het eigen bedrijf maar ook voor het landschap. Het landschapsbeleidsplan heeft aangetoond dat boeren zelf veel kunnen doen voor het landschap en via subsidie daar ook geld voor kunnen krijgen. Ook in Putten is er nog financiële ruimte binnen dat project.
Een ander discussiepunt is duurzaamheid. Veel agrariërs werken al met een houtkachel waarmee in hoofdzaak snoeihout wordt verstookt. Eigen energie-opwekking kan door middel van zonnepanelen op de stallen. Ook zijn er diverse mogelijkheden om de ammoniakuitstoot te beperken. De agrarische sector is een bedrijfstak waar veel gebeurt en waar de ontwikkelingen snel gaan. Denk alleen maar aan de groeiende automatisering. Melkrobots en klimaatbeheersing in de stallen zijn geen uitzonderingen meer. Maar daarvoor moet wel geïnvesteerd kunnen worden. Als dat niet meer mogelijk is, zou dat wel eens kunnen leiden tot het beëindigen van heel wat boerenbedrijven in het buitengebied. Inschatting op deze avond is dat dit wel eens vijftig procent zou kunnen zijn.
Ondertussen laat Aalt van Kempen zien hoe het kan. Zijn stal heeft een internetverbinding en met een druk op de knop kan hij precies nagaan hoeveel een koe eet en hoeveel melk ze produceert. Ook de kwaliteit is makkelijk na te gaan. De agrariërs geven nog een belangrijke tip. Wilt u weten wat ze elke dag doen? Kijk gewoon even in uw koelkast. En kijk even wat een liter melk kost en een fles Spa.