Keten leeg door Bijbelstudie?!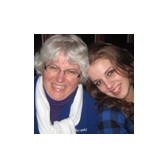 dinsdag 23 februari 2010

17:29
Zaterdagavond is de ChristenUnie gaan stappen in Putten. De fractie ging op bezoek bij een keet en naar de Hertog. De ChristenUnie is een populaire partij bij jongeren, zo blijkt steeds weer uit de peilingen. Alle reden om te kijken of jongeren zich ook thuisvoelen in Putten.

Keet
Achter op het erf, in het donker door de modder, ging de ChristenUnie op zoek naar de keet. Geen muziek of gebral, maar diepe rust. Zou de uitsterfconstructie zo hard hebben toegeslagen?
Het bleek niet druk te zijn in de keet, zo'n 5 jongeren zaten tv te kijken met een biertje erbij. De meeste jongeren waren naar een Bijbelstudie of naar dansles en zouden later komen…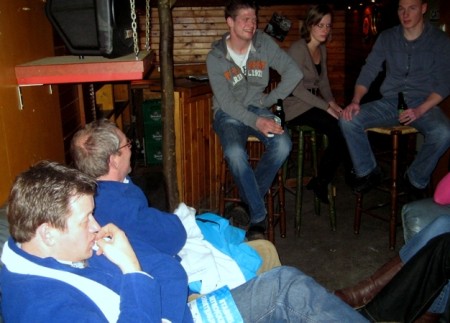 Met de jongeren is natuurlijk doorgepraat over het ketenbeleid, maar ook over de kunstgrasvelden bij SDC, het populisme, Geert Wilders en de werkgelegenheid in Putten. De jongeren waren heel tevreden om in Putten te leven.
Hertog
In de Hertog was het druk, met opvallend veel ChristenUnie-achterban. Naast veel steun waren er ook kritische vragen: Waarom is het zo moeilijk om een leuk evenement in Putten te organiseren? Dit terwijl Putten prachtige pleinen heeft om grotere en kleine evenementen te organiseren.
Het blijkt dat vergunningen maar zeer beperkt worden afgegeven. De jongeren gaven aan, dat ze niet perse grote muziekevenement hoefden. Live-muziek bij het terras kan in de zomer de sfeer in Putten al flink verhogen.
Jongeren nemen initiatief
Er wordt misschien (te) weinig voor de jeugd georganiseerd in Putten, maar de jongeren nemen gelukkig zelf initiatief. De ChristenUnie is ook wel voor een gezelliger dorpscentrum, waarin meer terrasjes met muziek passen. Het aanvragen van een vergunning moet daarom eenvoudiger kunnen.
De ChristenUnie vindt ook dat keten vaak te slecht in het nieuws komen. De termen zuipketen en bierketen doen geen recht aan de sociale functie van keten. Tegelijkertijd vragen de veiligheid en het bewust omgaan met alcohol meer aandacht, ook van de jongeren zelf.