Op de duofiets 'samen op pad'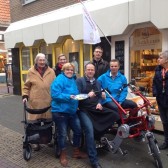 maandag 17 maart 2014

09:42
Samen van Putten de zorgzaamste gemeenschap van Nederland maken. Een mooie ambitie, maar hoe maak je dat concreet? Op 4 maart is Ard Kleijer met een aantal heel verschillende Puttenaren op een duofiets in gesprek gegaan over hun visie voor Putten.
In de komende periode zal de gemeente meer taken krijgen als het gaat om inrichten van onder andere zorg, verantwoord ondernemen en culturele activiteiten. De ChristenUnie Putten wil dit samen met alle inwoners van Putten doen. Samen op pad om zo ieder te zien en te kunnen doen wat zij of haar nodig heeft binnen de gehele gemeenschap.
Ouderen
Als start hiervan ging de lijsttrekker van ChristenUnie Putten op dinsdag 4 maart met verschillende mensen fietsen. Samen op pad met de duofiets door het prachtige Putten, zijn goede gesprekken gehouden. Als eerste nam Ard Kleijer mevrouw Dommerhold mee. Ondanks haar leeftijd van 88 jaar blijft ze zich inzetten voor de ander. Ze heeft het afgelopen jaar meegedaan aan de pilot Kracht voor Ouderen en roept elke oudere op om na te denken over de vraag: wat kan jij betekenen voor de ander?
Cultuur
De tweede rit was met Marieke Booy. Een violiste die cultureel ondernemend is. Haar boodschap aan ChristenUnie Putten is dat de cultuursubsidie gericht moet zijn op activiteiten en niet op gebouwen, of het bestaan van een vereniging. Zij is succesvol en geeft aan 36 kinderen les. Daarnaast geeft ze samen met Willemijn de Weerd, kinderboeken schrijfster voorstellingen voor kinderen. Putten biedt voldoende culturele mogelijkheden als het maar wordt ingezet met de juiste toon die de muziek maakt.
Boeren
Henk Kruithof was fietser nummer drie. Hij is boer en heeft een kalverhouderij in de kleur van deze tijd: duurzaam en innovatief ondernemer. Als boer blijf je altijd in beweging, om aan de verwachtingen en wensen van de samenleving te voldoen. Als christen juicht Henk toe dat samenwerking tussen gemeente en kerk ten dienste van het dorp een goede ontwikkeling is om door te zetten.
Zorg
Na de Puttense bossen en weilanden kwamen we aan bij Parel-Staete. Een huis waar mensen wonen met een verstandelijke en/of lichamelijke beperking. Hier stapte Arja van Baardewijk op. Arja was nieuwsgierig naar het werk van de wethouder en hoe het er aan toe gaat op het gemeentehuis. Als dank voor het vele verzette werk kreeg Ard Kleijer een dikke kus.
Detailhandel
Er was een pitstop bij de jongste ondernemer in Putten: de Veldmuis. Een prachtige kleine winkel, met talloze verschillende soorten kazen, worsten en nootjes. Jaap Veldhuizen heeft vertrouwen dat de gemeente zorgt voor een aantrekkelijke ingericht centrum. Hij wil graag in de komende vier jaar zien dat de gemeente wat doet voor de ondernemers in het centrum. Bijvoorbeeld de huidige Dorpstraat kan wel een recht pad gebruiken, waardoor ook mensen die slecht te been zijn, weer beter kunnen verplaatsen in het dorp.
Jongeren
Tot slot fietste Ard Kleijer met de jonge dame Emmy Vrijenhoek. Ze is erg actief in het leggen van verbindingen tussen jongeren en over de kerkmuren heen. Ze is vanaf het begin betrokken geweest bij Putten4One. Na haar studie heeft ze werk gevonden in Putten. "Momenteel sta ik een jaar ingeschreven bij Woningstichting. Ik schrok wel even van wachttijd, maar als dat het enige is, dan heeft Putten nog veel te bieden voor jongeren. Ik word blij van Putten!"
Wilt u ook meefietsen?
Dit waren de fietsers van deze ronde. Ook na de verkiezingen wil de ChristenUnie deze nuttige fietstochten houden. Wilt u of jij ook eens samen met ChristenUnie Putten op de fiets, dan kan dit! Op de fiets kunt u uw mening, of het geweldige idee delen met ChristenUnie Putten. Melden kan via secretariaat@putten.christenunie.nl.